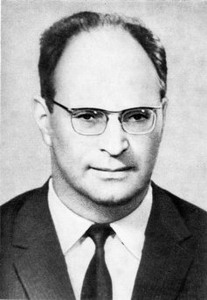 Gregory F. Drukarev
(15.04.1919 - 7.10.1986)
Gregory Drukarev was born in 1919 in Mogilev, a town in the western part of Russia where his father was a hat maker. In the early 1920s Drukarev's family moved to Moscow where he entered the university in 1936. He graduated in 1941, a few days before the outbreak of war between the Soviet Union and Germany. During the war he was a soldier in the volunteer corps, and the start of his scientific career had to wait until the end of hostilities. Drukarev spent all of his scientific career at the Leningrad State University where he worked first with V. A. Fock, head of the Department of Theoretical Physics. Starting as a laboratory assistant, Drukarev became full professor in 1961, a post he held until his death. His main research interest was the theory of electron-atom collisions, in the late 1950s he founded schools in this field both in Leningrad and Riga and, together with his students, made electronic collisions a major area of research in both universities. These schools have had a very important impact on the development of this area of physics over the last 45 years, with Drukarev him self taking the lead with many important contributions. His own last paper, on the distribution of the (n,l) states in electron collisions, was a typical example in a very active area of research. He also made important contributions to several other areas of collision theory, including the development of the phase function method, which was the subject of one of his earliest papers, and the theory of zero-range potentials.
Drukarev had written two well-known research monographs. The first, The Theory of Electron-Atom Collisions, appeared in Russian in 1962, with the English language edition published by Academic Press in 1965. The second, The Collisions of Electrons with Atoms and Molecules, was published in Russian in 1978 with the English language edition, by Springer, appeared in 1987. Both monographs contain clear expositions of the subject, showing Drukarev to be a gifted teacher as well as a distinguished scientist. At the Leningrad State University his teaching ability was well recognized and he gave lecture courses on many subjects including electrodynamics, nuclear physics and the physics of collisions. During the last 20 years he delivered lectures on quantum mechanics, with particular emphasis on applications in many branches of physics. His lectures in quantum mechanics have been published as a Russian textbook (1988) which is recommended for the physical faculties of universities by the Russian Ministry of Education.
His many friends outside the Soviet Union will particularly remember Drukarev through his attendance at many of the biennial international conferences on the physics of electronic and atomic collisions (ICPEAC). He gave a number of invited review lectures at these conferences, including those held in Leningrad (1967), Belgrade (1973) and Seattle (1975). He will also be remembered for his role as an advisory editor for the international series of monographs Physics of Atoms and Molecules. In this capacity he was instrumental in arranging for the publication of English language editions of a number of important Russian monographs. His own monograph appeared in this series. He died in Leningrad on 7 October 1986, before it was published.